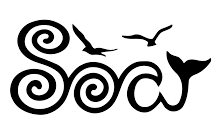 SOAR - SUSTAINABLE OCEANS APPLIED RESEARCH
SOAR is a not-for profit organization based on in Freeport, Nova Scotia - on Brier Island and Long Island in the outer Bay of Fundy. We are part of a community sustained by fishing, ocean tourism, aquaculture, tidal energy, and oceanographic research. Conducting work from a base of operation on Long and Brier Islands is cost-effective, utilizes local assets, and involves coastal communities directly as needed for success.
Our mission is to advance applied research as needed to help restore and maintain sustainable coastal communities and marine ecosystems, with focus areas in clean renewable energy and healthy food supplies. This includes advancing innovations in fishing, tidal energy, and aquaculture.
SOAR currently operates two ocean research and technology development stations, offering a wide range of ocean conditions. Our facilities are modest, and highly functional, with a focus on core needs for advancing oceanographic research and development.
We can help enable your work by providing shelter, power, high-speed internet, water access, vessels (with highly capable captains and crew), and local knowledge useful for a wide range of oceanographic tests. We also have extensive knowledge of the Atlantic Canadian coastline, and can assist with planning and performing experiments at several easily accessible and remote locations throughout the Canadian side of the North Atlantic.

One of our primary focus areas is evaluating the potential for in-stream tidal power to contribute to the global effort to fight climate change and achieve energy sustainability by providing clean, renewable energy at regular and predictable times.
Our projects will focus efforts on community-scale tidal technologies supplying sustainable energy to rural coastal communities. This includes communities connected to weak electrical grids, as well as remote diesel reliant communities. Our work will focus on capacity building, including investigating and advancing opportunities the tidal industry brings to coastal and indigenous communities, and the associated benefits to residents and business.
Prior to achieving sustainable benefits from tidal power developments, research is required to address environmental uncertainties. Our approach involves conducting effective environmental monitoring in highly visible and easily accessible locations, such as Grand Passage and Petit Passage (Nova Scotia). This includes development of effective monitoring systems, and evaluating marine animal behaviours in the presence of tidal power systems. One of our primary focuses is implementing a look, listen, and learn approach to environmental monitoring.


Freeport, Nova Scotia
The Freeport station is located at a fish house on Long Island, along the eastern shore of Grand Passage. This location provides access to energetic tidal currents in Grand Passage, Petit Passage, and surrounding waters. Local water use includes high marine animal species abundance and variety, fishing, aquaculture, tourism, and recreation.
Some of the local assets include highly skilled mariners, harbors and boat launches accessible throughout the tidal cycle, Canadian Coast Guard station Westport, and the reserve ferry (the Joe Casey) available for hire to assist with marine operations.
Shad Bay, Nova Scotia
The Shad Bay station is located at a boat house, along the sheltered waters at the head of Shag Bay (situated between Prospect and Peggy's Cove). This location is less than 30 min from Dalhousie University (Halifax), and provides access to small sheltered beaches, an estuary, a long low energy channel, and open waters on an exposed rocky (granite) coastline.