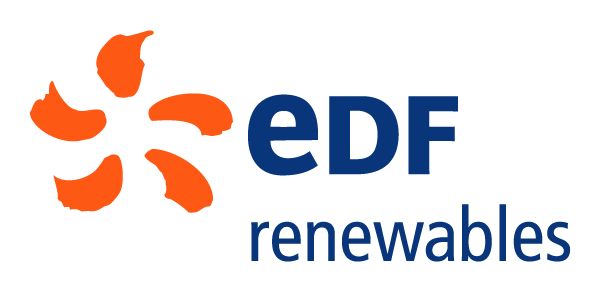 EDF Renewables
EDF Renewables is about more than just producing clean, renewable energy for today's world. We're committed to providing future generations with the means to power their lives in the most economic, environmental and socially responsible ways possible.
EDF Renewables is a market leading independent power producer and service provider with 35 years of experience. Our team delivers grid-scale power: wind (onshore and offshore), solar photovoltaic, and storage projects; distributed solutions: solar, solar+storage, EV charging and energy management; and asset optimization: technical, operational, and commercial skills to maximize performance of generating projects.
EDF Renewables plays a leading role in the growing offshore wind industry. With four (4) offshore wind projects in France (1,428 MW), one (1) in Belgium (325 MW), and two (2) in the United Kingdom (103 MW), we have proven our technical skills in marine engineering through successfully installing fixed-bottom, monopile, jacket and gravity based foundations. In June 2021, EDF Renewables secured a 1.510 GW contract with the New Jersey Board of Public Utilities via Atlantic Shores LLC (https://www.atlanticshoreswind.com/) – a 50:50 partnership between Shell New Energies US LLC and EDF Renewables North America. Atlantic Shores is projected to move to construction in 2024, and includes a number of essential investments and initiatives, including an agreement to train and hire local workers for the construction and maintenance of the wind project, an innovative 10 MW green hydrogen pilot with South Jersey Industries and a turbine nacelle assembly facility at the New Jersey wind port. Over its lifetime, the wind project will create thousands of well-paying jobs.
We look forward to collaborating with members of Marine Renewables Canada to build a vibrant offshore wind market in Canada.
https://www.edf-re.com/what-we-do/offshore-wind/
https://www.atlanticshoreswind.com