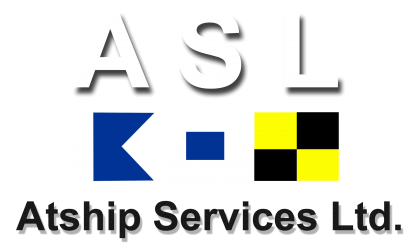 Atship Services Ltd.
Founded in 1994, Atship Services has become a solid partner in the marine industry. Our team is highly qualified in every aspect of the port agency sector, proven by the extraordinary depth and range of our operational and financial processes. We have proven to be able to provide the same high standards of professionalism and attention to detail that our clients come to expect.

Atship Services fully believes in adding our personal touch to everything we do. That is what sets us apart from others and why we are second to none.
Services include:
Ship Husbandry
Transshipment (double banking)
Dry Cargo Vessels
Tanker Vessels
Container vessels
Navy Vessels
Heavy Lift Vessels
Cruise Ships
Private Yachts
Bunker Calls
Lay-by Berth
Special Project Cargoes
Repair Work
Hull Cleaning
Subsea Inspection
Ground Transportation
Crew Attendance
Logistical Services & Support
Service Provided:
Marine vessels
Marine trades & operations
Markets served:
Renewable Energy
Marine / Boatbuilding
Other energy